Global Rainbow from Edinburgh Castle
Burns&Beyond with Johnnie Walker
Date
Wed, 24 Mar 2021 – Fri, 26 Mar 2021
Location
Visible above the skies of Edinburgh for 3-nights only between 24-26 March 2021
Burns&Beyond was proud to present the Scottish premier of international artist Yvette Mattern's Global Rainbow, lighting up the skies above Edinburgh, with messages of Hope, Love and Kindness for 2021.
Government Guidance
---
As we passed the one-year anniversary since lock-down restrictions began, reflecting on the year past, but now looking ahead with renewed hope and optimism, we believe it is more important than ever to let some light back into our lives, celebrating the work of our NHS Staff and key workers, and looking forward to a brighter future for all.
The rainbow has been imbued with added significance during the Covid 19 pandemic, with symbolic association with the NHS and shows all our support and gratitude to the nation's key workers.
Global Rainbow is a stunning artwork which beams seven parallel horizontal rays of high specification laser light, representing the spectrum of the seven colours of the rainbow. Having recently been shown in Kobe, Japan, Edinburgh now joins a list of international cities to present Global Rainbow including New York, Berlin, Sao Paulo and Toronto.
Global Rainbow from Edinburgh Castle has now finished but please watch and enjoy the stunning video footage and image gallery showing the artwork and Edinburgh at its very best.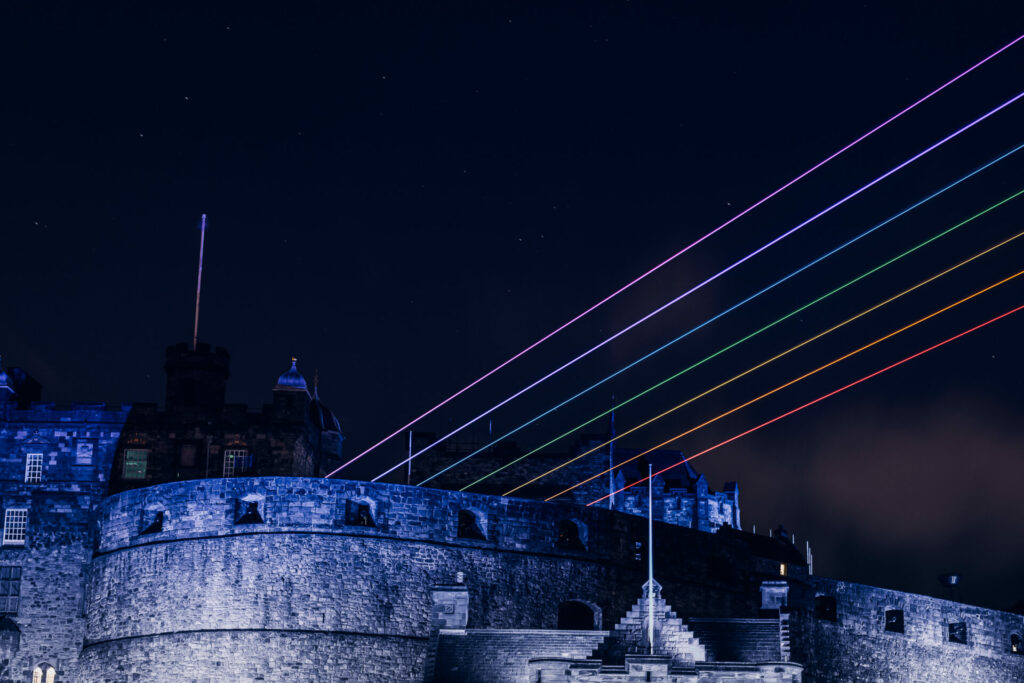 "I witnessed the most strikingly dramatic and spectacular rainbow crashing through what seemed like apocalyptic clouds hovering over Walden Pond, Massachusetts on the first day of 2007. I was deeply moved and inspired to replicate this vision artistically. This year, more than ever before, Global Rainbow can bring together communities to look ahead to a brighter future, while reflecting on the year past. Edinburgh is a perfect stage for the installation and I'm very much looking forward to seeing the Rainbow reach out above the city."
Yvette Mattern
---
'Or like the rainbow's lovely form,
Evanishing amid the storm.
Nae man can tether time or tide;
The hour approaches Tam maun ride'
Tam o' Shanter
Robert Burns, 1791
Government Guidance